05/16/2014
The Scott Towers Implosion
In just 18 seconds, the Greenville skyline changed forever with the destruction of Scott Towers.
Watch the video of Scott Towers Implosion here: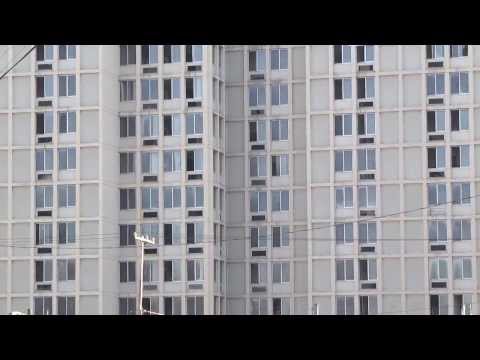 http://www.youtube.com/watch?v=VUyMXlffNbk
A part of Greenville's history since 1970 is no more. Scott Towers, a 14-story public housing building formerly located at 511 Augusta Street, was imploded on Sunday, January 19 at 9:30 a.m. The Greenville Housing Authority held a brief ceremony to recognize former Greenville Housing Authority board members who served when Scott Towers was constructed and to honor Mr. Elmer Ernest Scott, the building's namesake.
Mr. Scott served as chairman of the Housing Authority Board of Commissioners for 35 years and was a dedicated advocate for affordable senior housing for the Greenville community. He moved to Greenville in 1930 to open Greenville's J.C. Penney store and was with the company for 41 years. Scott passed away in 1984 at the age of 89.
For decades, the building served low-income seniors. "About three years ago the housing authority became aware of some very significant structural problems with the building," Cindi Herrera, the interim executive director for the Greenville Housing Authority, said. The Greenville Housing Authority made the decision last year to demolish the building after multiple studies determined the repair costs to bring the structure up to current building code requirements would be prohibitive. Scott Towers lacked sprinklers, the elevators were not pressurized, and numerous structural and safety issues persisted. Meanwhile, property value estimates for the site plus the building were $775,000, but rose to $2 million with the building gone, she said.
Rehab costs were estimated at more than $30 million, while demolition costs totaled $1.3 million, Herrera said. Agency officials blamed years of deferred maintenance, dwindling federal funds for public housing and changing building codes.
Evacuations in the area began at 7 a.m. The housing authority evacuated 100 people, including those living on the property's Garden Apartments and nearby homes. Steve Pettigrew of Contract Drilling and Blasting of Jacksonville Beach, Fla., explained that certain businesses and homes within about 300 to 400 feet of the building were also evacuated.
Implosion site used for large-scale training exercise
NEO Corporation, the company under contract to the Housing Authority and responsible for demolition of the building, turned the site over to the Greenville City Fire Department once it was deemed safe to do so. Fire department personnel will then begin using heavy equipment to prep what is expected to be a 30-foot pile of debris for a series of large-scale community disaster response exercises that will take place throughout the remainder of the week.
Part of the prep work will include placing props and mannequins in the structure prior to the implosion for tactical search and rescue operations.
According to Greenville City Fire Chief Stephen Kovalcik, the implosion and resulting site presented a unique opportunity for area fire, law enforcement and medical services personnel to practice interagency communication and unified command and for first responders to conduct tactical operations for HazMat/WMD and technical rescue. "Our regions operational capabilities are exceptional and proven on a regular basis," said Kovalcik. "The challenges this large-scale event provides can seldom be duplicated and will provide us the experience required to manage incidents that are the results of catastrophic events, such as a hurricane, earthquake or wildland fire, and was a once-in-a-lifetime opportunity."
The training exercise commenced with a call to dispatch the morning of Wednesday, January 22 with a report of an explosion and subsequent collapse of the structure at 511 Augusta Street. The initial dispatch included Greenville City Police, Greenville City Fire Department and Greenville County EMS. In addition to local fire and law enforcement agencies, Bon Secours St. Francis Downtown and Medshore Ambulance Service participated in the training by providing patient care and transport of the injured. St. Francis Hospital personnel operated a simulated emergency room, at an off-site location, in an effort to challenge the regions ability to manage a large-scale event with causalities. The exercise required the activation of the regional Hazardous Materials /Weapons of Mass Destruction team and technical rescue assets, including teams from Columbia, SC and Asheville, NC. In addition, the Greenville County Emergency Operations Center, which provides the command and logistical support needed for large-scale events such as earthquakes, hurricanes and wildland fires, participated in the training.
What's next for the site?
The Scott Towers site will be redeveloped into market-rate, affordable rental units for families and low-income seniors. According to TGHA, there will be three phases to the redevelopment. Two phases will include an estimated 150 affordable housing units for seniors. The third phase includes a 200 multi-family project of which 80% will be market rate and 20% will be affordable housing, according to Herrera.